Finally, a Permanent, Non-Toxic Concrete Waterproofer
A Concrete Sealer that is easy to apply and odor-free
The best permanent sealer and waterproofer for your concrete basement walls and floors.
Waterproof masonry surfaces, including Portland cement, Shotcrete, standard stucco, and cement mortar.
Use above, below, or on grade as a slab hardener, dustproofing agent, and/or waterproofing agent.
Do your basement walls or floors always seem damp in the wet months, resulting in a moldy smell? How about your concrete driveway, sidewalk, or patio: do you worry about freeze-thaw damage? Perhaps a powdery efflorescence is leaching from your concrete walls? Concrete is porous and will absorb water, which shortens its life span and can contribute to other problems. Many concrete sealers are just surface treatments that don't address moisture deep within the concrete. The best concrete sealers are those that permeate deeply and set up hard under the surface and inside the pores of the concrete. Whether you are basement waterproofing or need to stabilize and waterproof concrete or cement walls, floors, sidewalks, driveways, and patios, this non-toxic permanent concrete sealer can resolve or prevent moisture problems for years.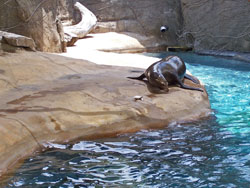 ICS is a non-toxic clear solution. It has zero VOCs and no odor, and is easily brushed or sprayed onto surfaces. It soaks in and has a chemical reaction with the alkali that exists in all concrete. That chemical reaction causes a gel to form, which then hardens to glass crystal and fills all the pores within the concrete substrate. This silicate crystalline material remains permanently imbedded in the pores, making the concrete so dense that there is nowhere for water to absorb. Because this happens deep within the concrete, it leaves no visible film or evidence of water repellency on the surface. This enables easier bonding of an additional surface sealer such as our Masonry Top Sealer or concrete paint. ICS extends paint life by 300%.
This internal, permanent seal and water barrier also hardens and dustproofs the surface while increasing the compressive and flexural strength. If water is coming through the concrete through cracks, note that ICS is not a crack filler, but it is an excellent first step to waterproofing walls and concrete floors prior to filling cracks and sealing cold joints. It is often used at zoos to seal the floors in animal cages, ponds, and concrete water features because it is environmentally safe, permanent, and even prevents animal urine from soaking in which helps to prevent odor and promotes easier cleanability.
As the gel forms it may push out contaminates such as excess alkali in new or old concrete or oil residue, animal urine, fungi etc in older concrete. Contaminates can then be chemically cleaned off with concrete cleaner or Clean & Brite in conjunction with agitation with a stiff brush or pressure washer.
Not for use on colored or stained masonry surfaces, as the color may be affected. Not for use on aggregate or natural stone.
Internal Concrete Sealer's Unique Advantages
Completely environmentally safe (see MSDS sheet)
Does not alter or affect the color or texture of bare concrete treated surface. If using on colored concrete, ICS could possibly flush out colorant. Do a test patch first to test for this.
Permanently water proofs and holds a hydrostatic head, retarding penetration of acids.
Increases bonding of any top coating (including paint, mastics. etc.) by 300%.
Retards pitting, dusting, and rutting.
Cures new concrete uniformly and resists air checking and spot drying.
Permanently increases density and hardens all concrete surfaces that contain free alkali by reducing or eliminating wear due to abrasion, freeze-thaw and salt attack.
Enables easier removal of snow and ice.
May be painted over, and will accept concrete topping or mastics for floor tile etc.