Welcome to Timber Pro Coatings
Bringing you the best log home finishes, natural wood siding,
wood deck and fence care products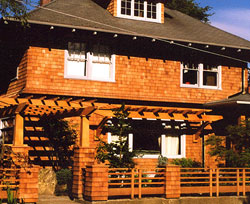 Timber Pro brings "high performance" natural wood finishes to those who are serious about wood protection and maintenance. Our wood care and restoration products were developed to fill a demand for more durable transparent wood stains needed to protect and maintain log homes, natural wood siding, wood decks and fences.
Years before green building products became popular, we helped pioneer oil based waterborne technology, combining bio-preferred renewable oils, high tech sunscreens, and other non toxic additives to create a wood protectant that is non flammable and low VOC. Experience counts, and we are proud of our reputation as a leader in the development of sustainable wood finishes.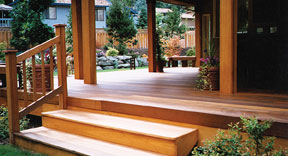 Timber Pro UV transparent finish can also be used on interior wood such as beams, trim, timber frames, doors, and logs because it's so environmentally safe. With top coats of our clear satin Crystal Urethane, your interior wood will glow and be protected for years.
Whether it's a cedar or redwood deck, a log cabin in Alaska, a dock in Florida, cedar shingles in Nantucket, or a teak sided Hawaiian beachfront estate, Timber Pro has a naturally tough finish to protect it.
Order yours today or contact us for more information about our products.

Architects: Download Timber Pro product specs from ARCAT for your next project.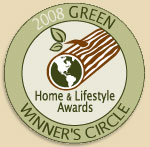 Timber Pro UV is a 2008
GREEN LOG Homes & Lifestyle
1st Place Award Winner!
The GREEN LOG Homes &amp Lifestyle Awards were created in response to the growing demand for green building solutions. The goal of the awards is to locate and shine a spotlight on those companies and individuals who are enabling healthier homes and lifestyles. We're proud to have received so many votes that we won first place for this prestigious award.